Unique Features of Oryza Gammax®
Oryza Gammax® is 100% natural. It is sourced from non-GMO rice bran oil which goes through several extraction steps to derive more than 97% of gamma oryzanol.
Highly safe
It is FDA GRAS approved in 2019 and has passed numerous stringent safety test for:
Acute Toxicity (LD50)
No abnormalities observed at 10,000mg/kg
Chronic Toxicity
No abnormalities observed at 1,000mg/kg after 6 months
Teratogenicity
No abnormalities observed at 600mg/kg during pregnancy
Carcinogenicity
No abnormalities observed at 2,000mg/kg/day for 78 weeks
Highly stable
No decrease in content for more than 3 years under proper storage conditions.
Superior absorption and bioavailability
In a clinical trial, 9 healthy males were orally administered gamma oryzanol at 3 different dosages (75 mg/body, 300 mg/body and 600 mg/body) 30 minutes after meal. Peak concentration of gamma oryzanol in the blood serum was achieved within 12 hours. Concentration of gamma oryzanol absorbed into the blood serum was also dependent on the dosage administered.
High potency in the brain
Oryza Gammax® has been demonstrated to cross blood-brain barrier intact and  found to be largely distributed in the brain. These are crucial for it to exert beneficial effects on brain function and the nervous system.
In this test, gamma oryzanol content in different tissues were examined at 1 hour after a single oral administration of 3.2 mg/g body weight gamma oryzanol to mice. Gamma oryzanol was found to distribute predominantly in the brain tissue.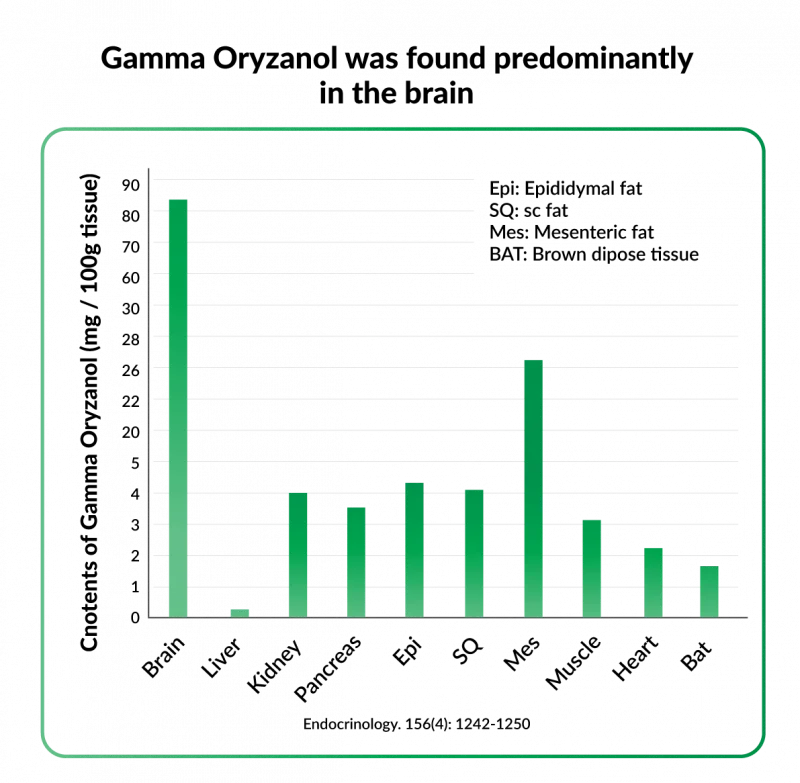 Research proven
The health benefits of Oryzanol Gammax® are supported by clinical studies.